ALU
CAT

® Trailes

ALUCAT® catamaran trailer.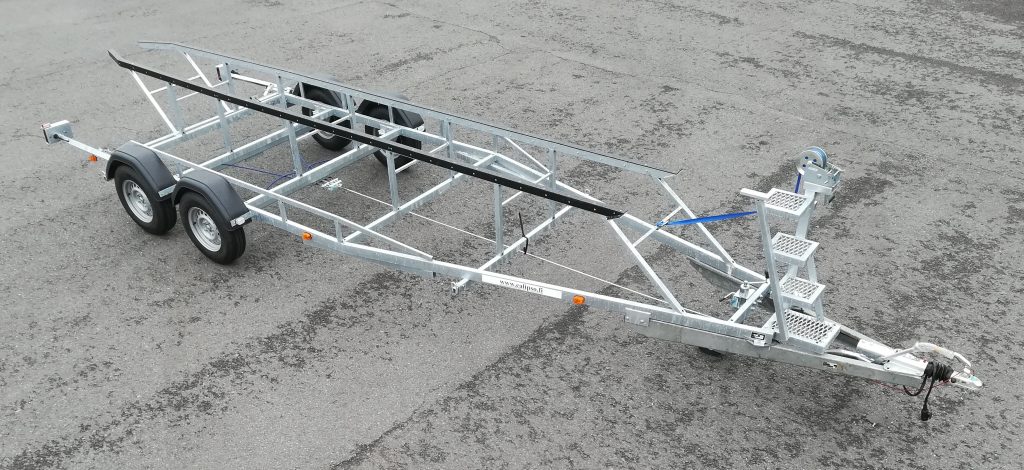 The ALUCAT® trailer is a high-quality domestic work. The tail light rails can be lifted up when driven into the water. The lights do not touch the water and are safe at the upright position.
When launching into the water, the catamaran stays in floating position and it is easy to continue with your own power out of the trailer.
Access to the trailer is made easier by the inward-curved rails. The catamaran should be driven onto the trailer until the bottom contributes to the track estimation.
ALUCAT®-trailers
| | |
| --- | --- |
| ALUCAT® Sink Pro 1350kg with brakes, W8 (all models) | 2.950€ |
| ALUCAT® Sink Pro 1800kg with brakes, W10 (CC, DC, SC models, Cabin 2, Cabin 2 Work) | 3.950€ |
| ALUCAT® Sink Pro 2100kg with brakes, W10 (Cabin 4 models) | 4.550€ |
| ALUCAT® Sink Pro 2100kg with brakes, W14 (CC, DC, SC models, Cabin 2, Cabin 2 Work) | 4.750€ |
| ALUCAT® Sink Pro 2500kg with brakes, W14 (Cabin 4, Cabin 6 models) | 5.450€ |
| ALUCAT® Sink Pro 2700kg with brakes, W14 (Cabin 4, Cabin 6 models) | 5.450€ |